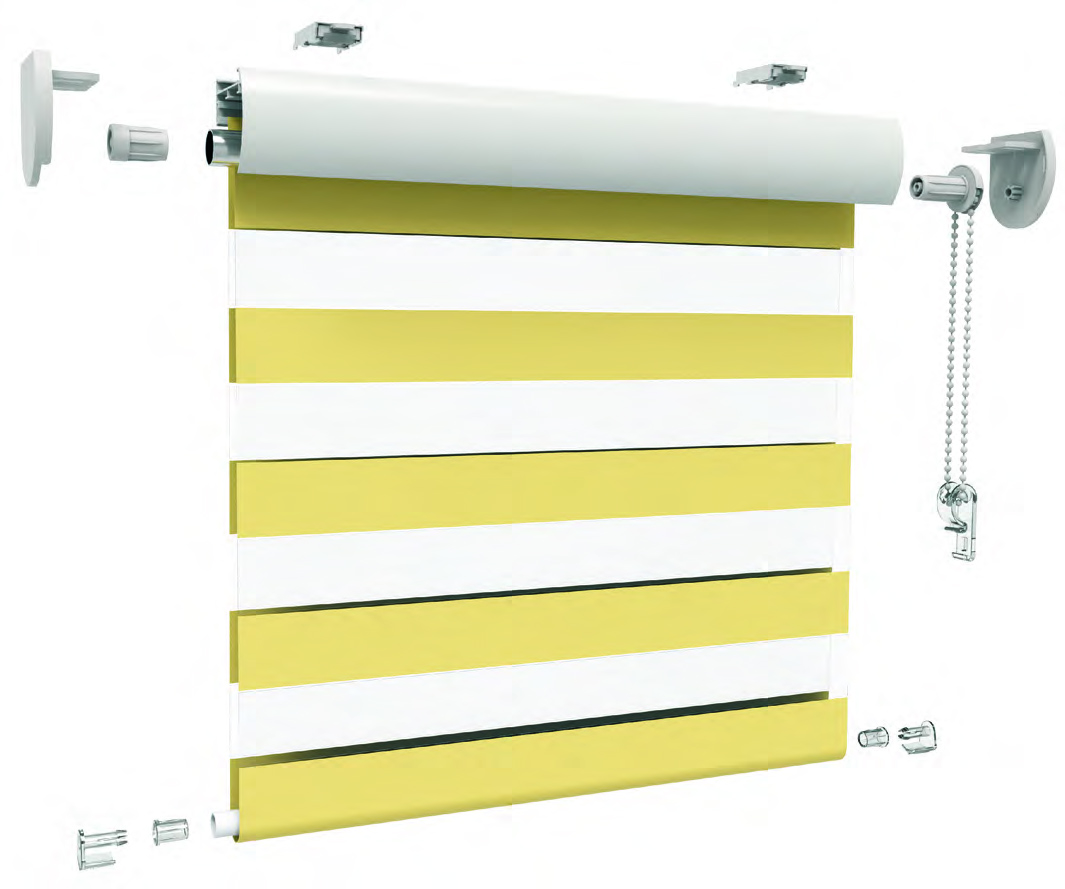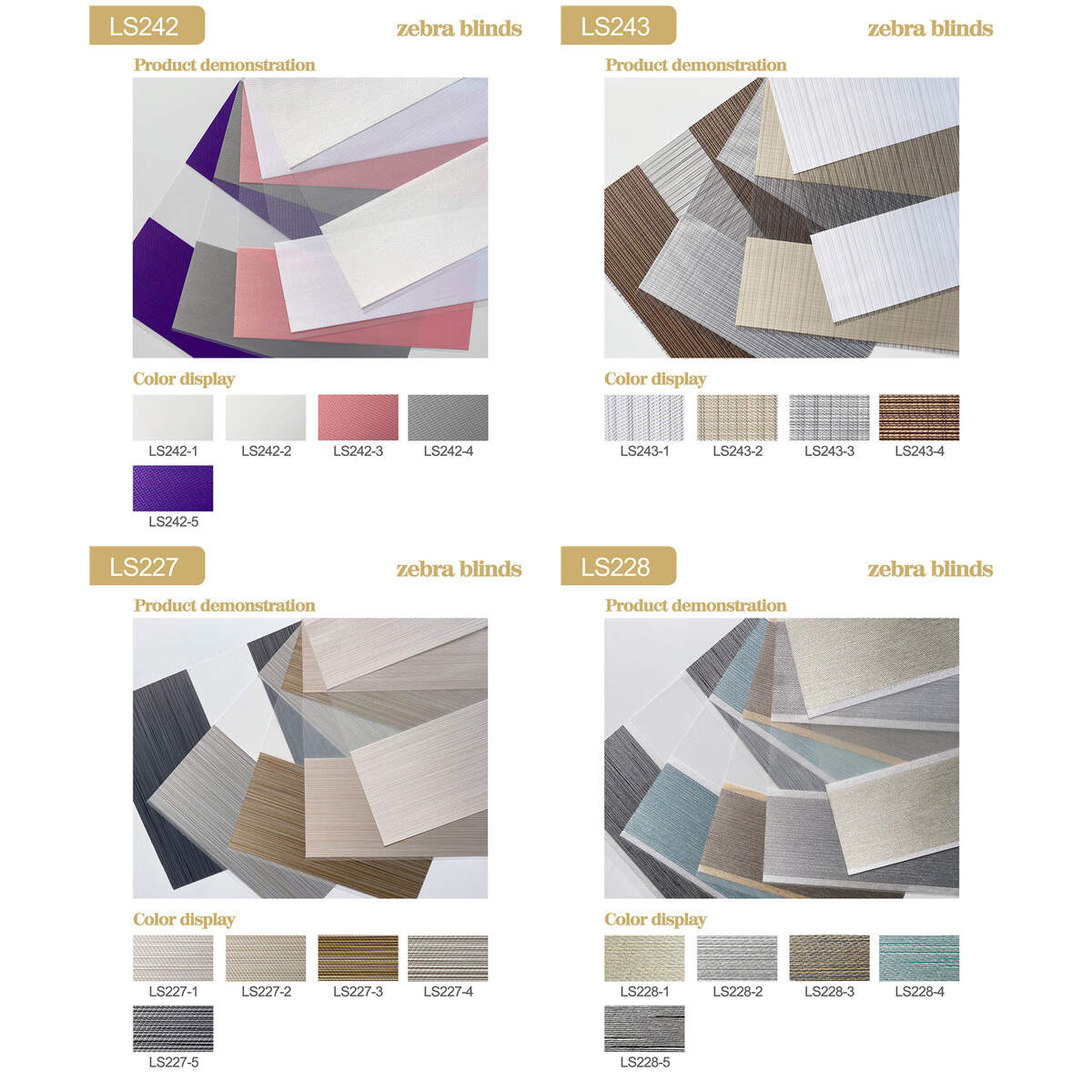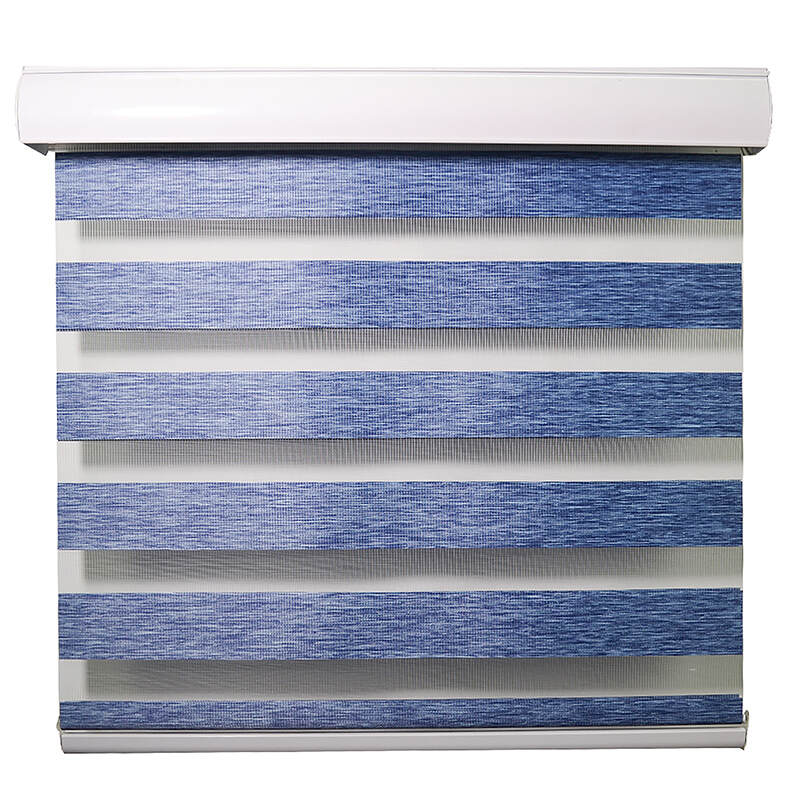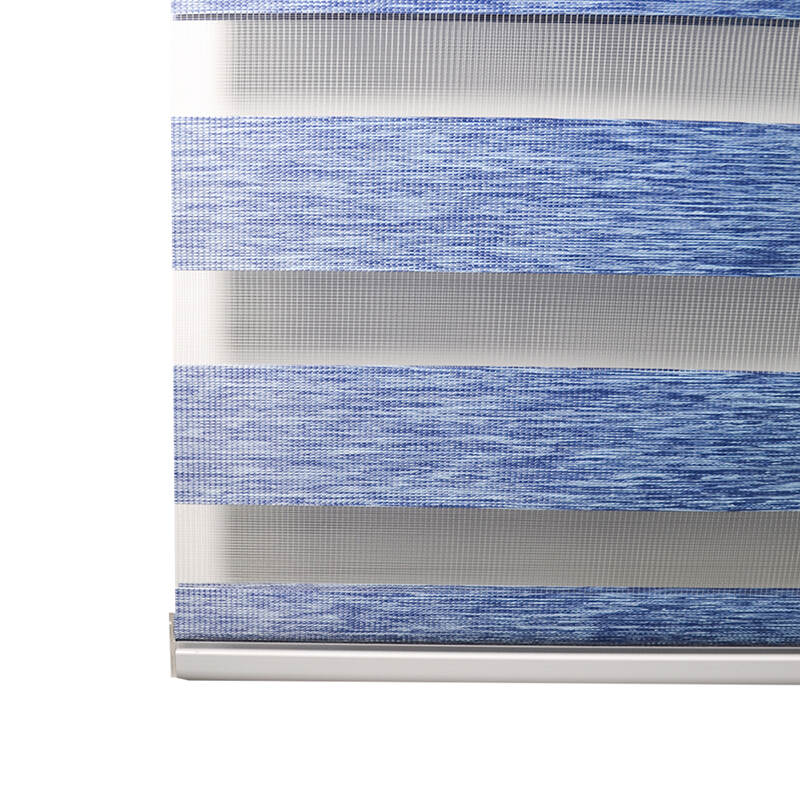 Our electric zebra blinds are a two-layer fabric structure combined with one cloth and one yarn. The functions of light adjustment, shading and ventilation are realized by the interlacing of the front and rear two layers of fabrics. The electric zebra blinds control the opening and closing of the curtains through the motor, so that the opening and closing of the curtains can be controlled at will, and the intelligent life is beautiful and advanced! Electric zebra blinds have a total of half-open and two states. The semi-closed state is transparent and has good air permeability. The closed state satisfies shading and privacy. According to the opening state and the choice of the shade of the curtain, the shade is between 20%-85%. Zebra cord fabrics are relatively fashionable and can be used in any style. Our electric zebra curtains are made of imported curtain fabrics from South Korea, which are combined with mesh and tightly woven.
The number of mesh accounts for 1/3 of ordinary curtain fabrics, which can effectively filter impurities outside the window and make the indoor air fresh and natural; the shading part adopts high-precision fabric layer, high shading black layer and the high-gloss glass yarn layer are three-layer fabric interweaving process, and the cloth is 2cm wider than the yarn, which makes the curtain body more light-shielding and light-fast, effectively blocks ultraviolet rays, and effectively protects privacy. Our electric zebra blind is also equipped with a thick aluminum shell cover, which is strong and waterproof, and a counterweight lower rail, which is stylish and beautiful and makes the curtain more vertical and stiff.
The electric motor of the water curtain electric zebra curtain has a controllable choice of DC motor and AC motor, and the two motors have their own characteristics. DC motors generally use built-in or external power transformers, which are safe and low energy consumption, and the motor does not heat up for a long time, which is an international standard. And the driving power is generally large, the curtain that can be loaded can reach 40-100 kg, the noise is relatively small, especially after the load is smaller than the idling sound, and its control circuit is relatively simple, generally it is a built-in receiver, no need to separate external receiver. The AC motor drive method can directly use the 220V power supply, the control circuit is more complicated, generally requires an external receiver, and it is not safe; although the driving power is large, the motor is easy to heat up and affect the service life. You can opt for a suitable motor according to your needs and the conditions of the installation site.
What is a zebra blinds?As a modern roller blinder, zebra blinds(also known as dual blinds) are substitute for horizontal blinds. They consist of alternating horizontal opaque and transparent fabric stripes for easy transition from day to night. By adjusting the stripes, you can control how much light and privacy your room receives. By simply overlapping the opaque stripes, you can see through the transparent stripes and let light in. When you need more privacy or the room becomes dark, please adjust the shutter to separate the opaque stripes. Zebra blinds are an innovative modern blind that can add a unique style to any room.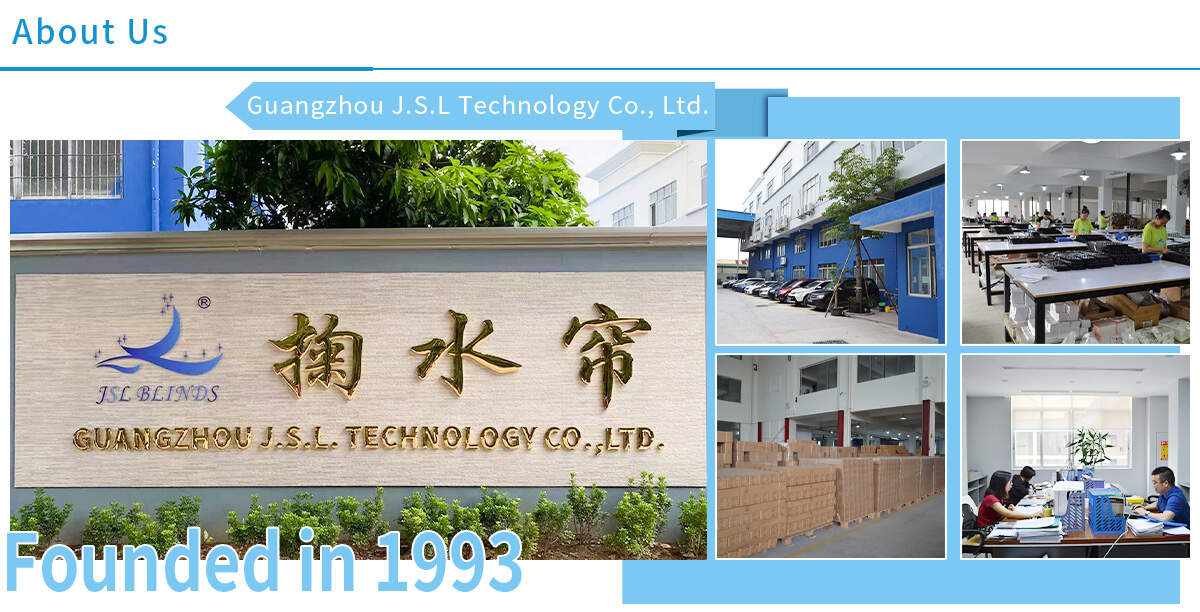 Company Profile
Guangzhou J.S.L Technology Co., Ltd.is situated in guangzhou,China. Our factory was found in 1993,we are a manufacturer that produces and sells a variety of window blind and intelligent sunshade products.Our own workshop covers an area of about 10,000 square meters, with three main production lines,several automatic and semi-automatic professional production lines,such as automated mini blind equipments, roller shade equipments, packaging equipments, etc.We have about 100 skilled production staffs, 20 management staffs,5 development and design staffs. Committed to becoming a one-stop purchasing blinds factory,our production line includes aluminum blinds, wooden blinds,faux wood blind, vertical blinds, PVC venetian blinds, bamboo blinds, roller blinds,vertical blind,zebra blind,RV blinds,motorized blind and related blind parts, blind making machines.
We can yearly output 1.5 million pcs PVC and aluminum blinds,500,000 pcs faux wood blind,200,000 pcs vertical blind,1.5 million pcs roller shade, 1.5 million pcs pleated shade,1.5 million pcs other blinds. Our products are exported to Europe, America, Southeast Asia and the Middle East and have won us a good reputation. As one of the most well-organized and experienced professional manufacturer of window decorations in China, we can ensure excellent quality, attractive prices and good services. We are trying our best to satisfy our customers through continuous research and development of new products and prompt delivery. Clients from domestic and abroad are welcome to contact us for business cooperation. About 100 skilled production personnel, 15 excellent quality inspectors, and 20 experienced management personnel ensure product quality and delivery time. 10 sales provide customers high-quality pre-sales and after-sales service.
Our services
OEM
ODM
Free sample
6 months quality guarantee
On-site or online factory and goods inspection
Online survey site, remote guidance of design, installation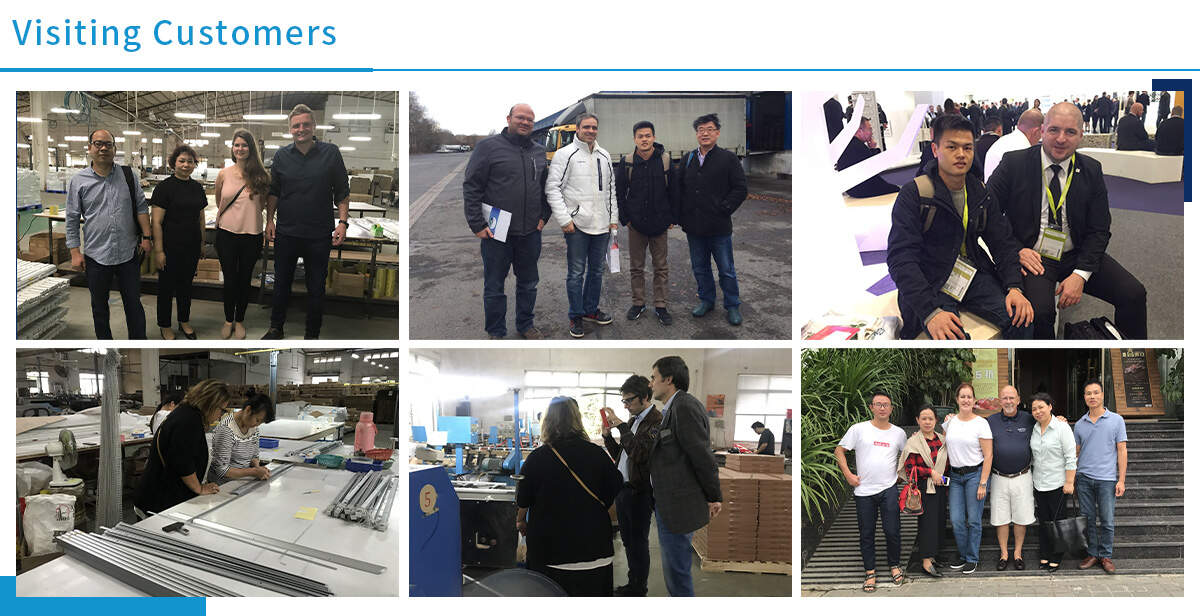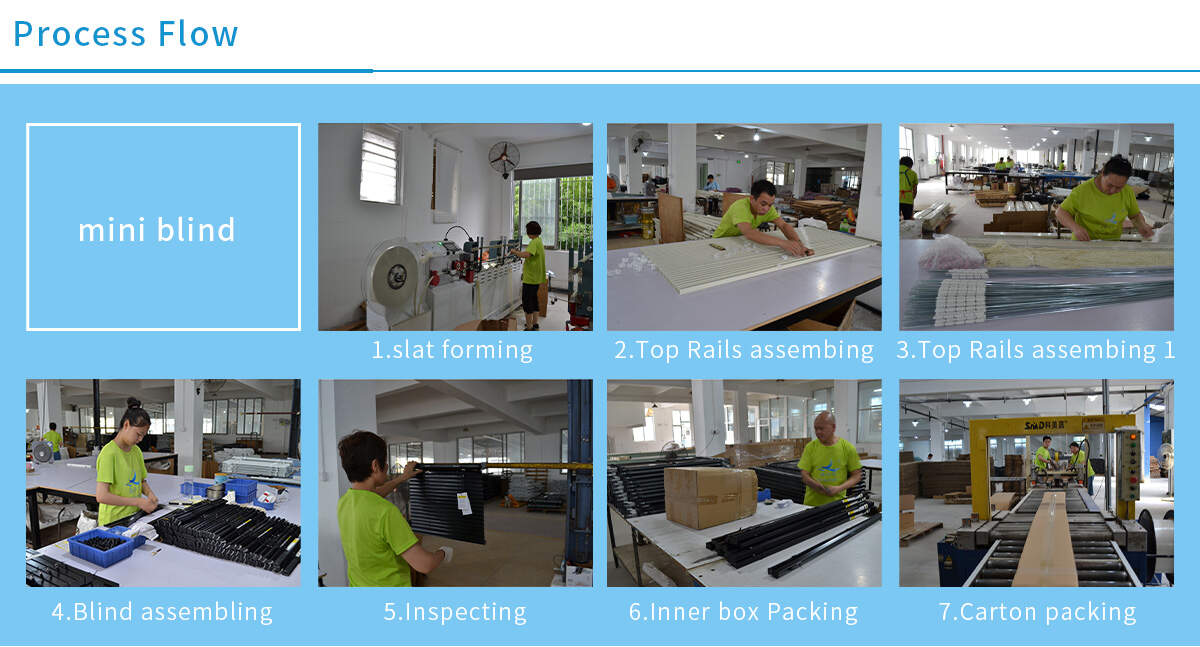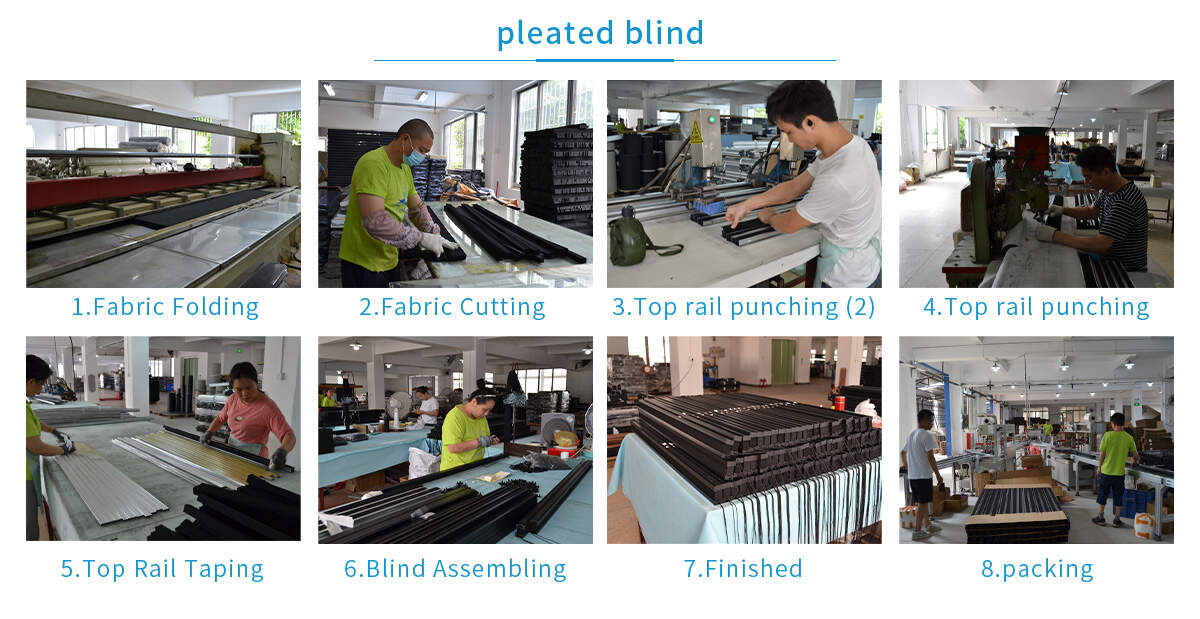 Process flow of venetian blind
Forming and punching of slats
Rails prep installation
Connect slats anad rails
Inspection
Package
Process flow of fabric blind
Fabric cutting, folding
Rails prep installation
Connect fabrics anad rails
Inspection
Package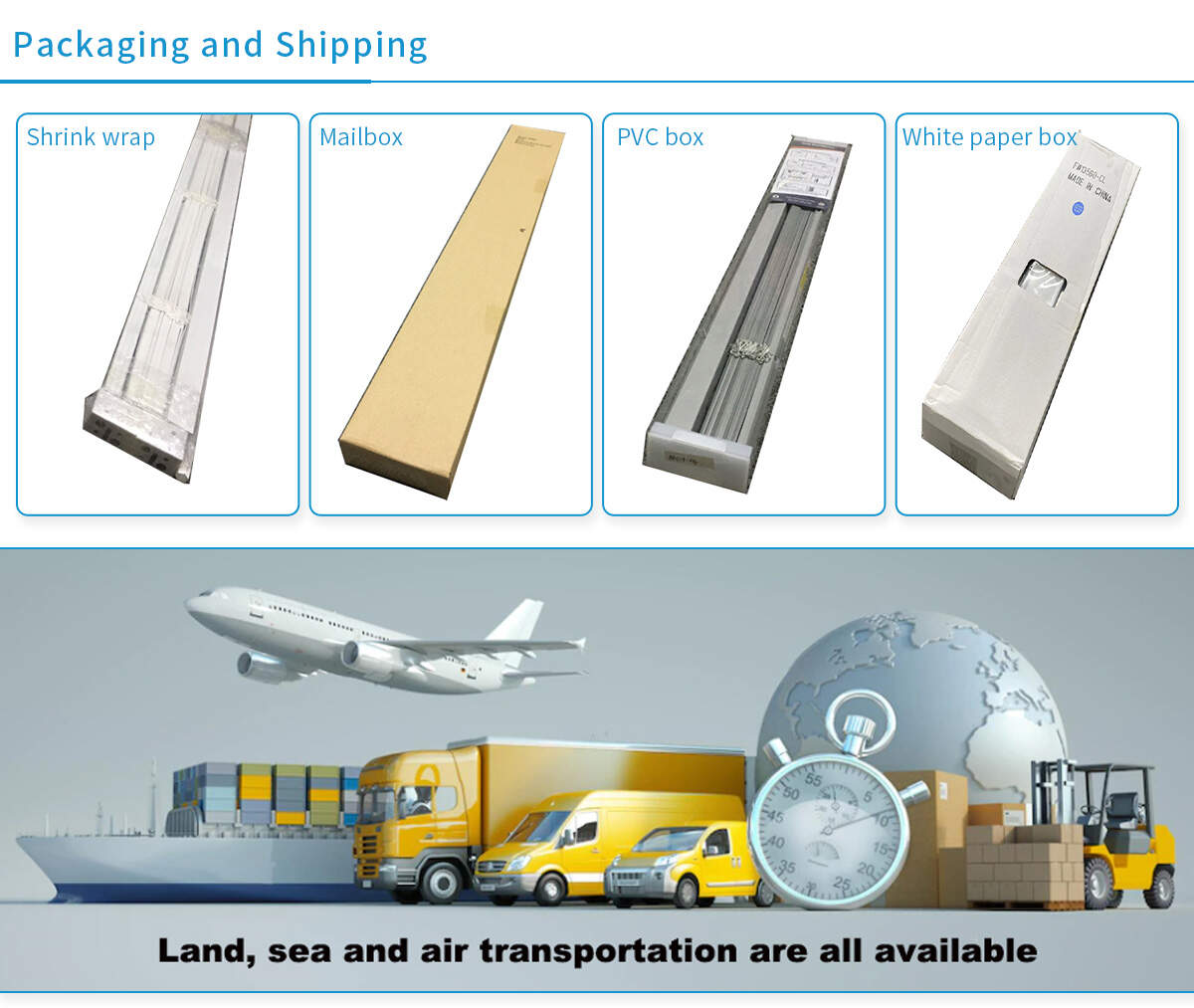 Packing & Shipping
Generally, the goods are delivered to customers by sea or air, the production time is 45-60 days, and the goods are packed in carton or pallets.Sale package option: Paper boxes, PVC transparent boxes, mail order boxes and so on.What is more, packaging can be designed according to customer requirements.
FAQ
Q: What is the MOQ?
A: MOQ: 300PCS
Q: What is your delivery time?
A: 45-60 days
Q: What is the payment method?
A: TT,L/C,Paypal, West Union, 30% deposit,70% balance before shipping.
Q: How do you guarantee the quality of your products?
A: we have an inspection team of 10 workers, 100% inspection for every piece of blind from appearance to function.
Q: Are you a factory or a trading company?
A: We are a manufacturer.
Q: Where is your factory?
A: Guangzhou,China
Q: Are custom services available?
A: Yes.
Q: Do you support OEM and ODM?
A: Yes.
Q: Why choose us?
A: We have the following advantages: competitive prices,high quality, on time delivery,free samples.7/24 hours after-sale service.We can be your trustful partners on window blinds and shades markets!
Q: How long is the product warranty?
A: 6 months.
Q: Does your packaging ensure product safety?
A: Sale package option: Paper boxes, PVC transparent boxes, mail order boxes and so on. Seaship outer package:and the goods are packed in carton or pallets.
Q: What information do I need to provide to get an accurate quote?
A: Blind type, blind width and height, quantity and other request.
Q: How can I get product progress without going to your company?
A: We will keep you updated on production stage by email,when the goods are ready you can have video inspection,video shipping monitor.
Q: How is your after-sales service?
A: 7 sales provide customers high-quality pre-sales and after-sales service.
Q: Can samples be ordered?
A: Yes.
Q: How much is the sample fee, can it be refunded after bulk product?
A: Most samples are free, for high value samples we will charges and refund accordingly order scale.
Q: Do you provide quality assurance?
A: 6 months quality guarantee.
Q: Do you support providing samples?
A: Yes.
Q: What is the supply capacity?
A: We can yearly output 1.2 million pcs PVC and aluminum blinds,450,000 pcs faux wood blind,200,000 pcs vertical blind.